About the Award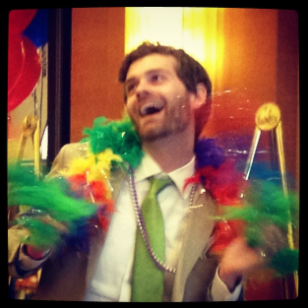 This award was created to honor Michael Henson's spirit. In Michael's four years of involvement with the band he served as president, vice president, director of events and co-director of membership. These were not just positions he filled -- he was creative, saw where work needed to be done, and did it. For example, while he was serving as vice president of the band, the president stepped down and, with ease and grace, Michael took on the presidency. Michael was responsible for expanding the band's reach and visibility as we crossed the border to Canada and marched in the Vancouver, BC parade for the first time. Words will never give him justice; that is why we so frequently refer to his spirit. That said, he was known for his kindness, smile, love of music, and how he made you feel when you were in his presence. Many band folks will tell you that he was the first to greet them at band, and how welcome he made them feel.
Michael's spirit and connection with Rainbow City Performing Arts is exemplified in this video of his performance of Imagine at the concert band's December 3, 2011 concert. Michael passed away, suddenly and unexpectedly, on Sept. 18, 2012. He was just 30 years old.
In recognition of Michael's spirit and contributions to RCB, the board of directors created this award to recognize inspirational leaders each year to motivate us to be the kindest, most playful hard workers for equality that we can be.
The first Michael Henson Imagine Award was presented to him, posthumously, at our October, 2012 concert. His award will be presented annually at RCB's fall concert.
Nominating a Candidate
We encourage members of the community to consider leaders in the LGBTQA community that exemplify the spirit of Michael: leadership and equality practiced with lots of love, dance and laughs. Do you know someone whose contributions should be recognized? Please complete our nomination form to tell us more.
Help us recognize all the great work going on in the community!
Past Recipients
2012: Michael Henson
2013: Connie Burk
2014: Anne Phillips
2015: Bob Dolan
2016: Betsy Smith
2017: Damien Hall