Why Book an Ensemble with RCPA?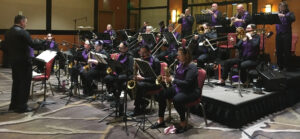 Look to Rainbow City Performing Arts because we provide an array of groups large and small available to play for your festival, wedding, party, corporate event, or social. Our ensembles have a wide variety of musical styles available from brief spirit-raising appearances to an entire evening of professional entertainment.
All our members are from the community and many work jobs during weekdays making it difficult to accept event requests unless they are evenings or weekends. Our calendar gets booked fast, so please send requests with as much notice as possible.
Our rates are competitive with local entertainment options and may include necessary rehearsal time to prepare for your event depending on music and complexity.
You can also book an ensemble for your event nonprofit community event and we offer free performances for marginalized communities and high visibility events.
Who Are Our Musicians?
At Rainbow City Performing Arts, we celebrate the diversity and vibrance of our musicians. Our ensembles are composed of talented and passionate LGBTQIA+ and allied individuals who express themselves through music. Whether you want a lively marching band, a soothing jazz combo, a high energy sports band, or a majestic symphonic band, we have the perfect option for your event. Book an ensemble today and enjoy the captivating and inspiring sounds of Rainbow City Performing Arts.
Available Ensembles to Book
Want to book an ensemble?
Contact us with your inquiry to get a quote for a performance.