Want to become a member?
We're looking for new members to join starting in September for the new concert season.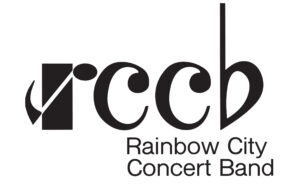 <!=========Events Static list Template 2.3.1=========>
Who is the Concert Band?
Rainbow City Concert Band is our inclusive performing ensemble to give our members opportunity to perform a broad an exciting array of concert music for wind ensemble.We welcome members of all abilities, backgrounds, and identities. In a given instrument section you might find a college student, a music teacher, a recent retiree, or a professional musician. Though varied in skill, what we have in common is our shared mission and a love of making music in a fun, welcoming environment.
What the Concert Band Does
We perform large thematic concerts with a symphonic scope and character in a number of different local concert venues. We use our rehearsal and sectional time to develop musically as individuals and as an ensemble, and to provide a comfortable musical home for our members.
We perform a wide range of classical and contemporary music and seek out compositions from a variety of genres, local artists and diverse composers. Though take on challenging music, we also provide time and opportunities for members to learn and improve skill together in a supportive environment. We focus our performance choices to highlight the music of diverse composers and culturally relevant themes that speak to our community.
How Concert Band is Different
We are not your standard community band! We aim to build a family of musicians of all abilities and identities and make you welcome to express yourself with us through our shared love of performance. Through our mission, we focus our musical choices on composers who are marginalized and less often heard through history. We also play themes that speak to LGBTQ+ communities and the challenges we still face. Often, we include community partner organizations and impactful collaborators to bring focus and donations to important causes.
The band is backed by Rainbow City Performing Arts, performing instrumental music in Seattle since 1998. Through collaboration and shared resources, we are building a strong lasting legacy in Seattle with a welcome place for those who want to join our mission. All are welcome! Whether you are a member of the LGBTQIA+ community, an ally, differently abled, or still building musical skills, we are committed to securing a space and supporting everyone who is interested in expressing themselves on their instrument.
---
Common Membership Questions
---
How do you engage with the community?
We perform stage concerts with ticket prices that are accessible for most patrons. We collaborate with other community ensembles & artists and we fundraise for charitable nonprofits in our community.
---
When and where are the rehearsals? How long is the performance season?
Monday evenings from 7 - 9:30pm in the University District with free parking and close access to bus and light rail. The rehearsal term lasts from September through April with concerts in November, January, and April. There are occasional additional rehearsals on Saturdays to accommodate rehearsal needs. Members can work with their section leaders to manage needed absences to ensure performance readiness.
---
What instruments could I play?
Instrumentation is for: Piccolo, Flute, Oboe, Bassoon, Clarinet, Alto Clarinet, Bass Clarinet, Contra Clarinet, Alto Sax, Tenor Sax, Baritone Sax, Trumpet, Cornet, French Horn, Trombone, Baritone, Euphonium, Tuba, Piano, String Bass, Percussion.
We have limited loaner instruments available.
---
What's the skill level required? Is there an audition or cap on membership?
We welcome members of all skill levels and many of our members joined us after a long break from playing. We have a supportive environment for you to build your skills. There is no audition or limit to the number of members.
---
When can I join?
Contact us at any time to let us know your interest and we will connect you with the ensemble to join at the next opportunity. Initial season rehearsals are mid September and you can jump in after the conclusion of each concert quarter. You're welcome to sit in on a rehearsal for a try out any time.
---
How do you distribute music?
All RCPA ensembles distribute all music digitally through cloud links. You can print your own music to your preferred size specifications or load it onto a digital device. We do not always have copies of the music available at the rehearsal. Specific parts are assigned by section leaders equitably to distribute members evenly across parts.
---
What are the basic requirements of membership?
We ask members to attend 80% of all rehearsals or make arrangements otherwise. Member dues are $75 per quarter, or you can utilize our Angel Fund to cover your dues in case of financial need.
---
How do I sign up?
Click here to fill out our membership interest form. We'll get back to you soon!
Concert Band's History
Rainbow City Concert Band held its first rehearsals in fall 1998, following the conclusion of the inaugural marching band season. Members decided that they didn't want to wait until the following spring to make music again, and Rainbow City Band began its tradition of indoor concerts from fall through spring followed by marching band in the summer.
Founding conductor Jo-Ann Christen led the band for nine years, developing a small group of enthusiastic musicians into a full-fledged concert band. The band played in various venues in the Seattle area such as the Swedish Club, the Russian Cultural Center, the Bastyr University ch
apel, and several churches. The band partnered with several choral and instrumental groups, sharing the stage with the Seattle Men's Chorus, Seattle Lesbian & Gay Chorus, the Total Experience Gospel Choir, and Gamelan Pacifica.
As Michael Clark took the helm as our second conductor in 2007, the band had grown to a point where its members and audiences no longer fit in smaller venues; the band began to perform consistently at Broadway Performance Hall on Capitol Hill.
As we continued to add performing opportunities for members, Michael was named Artistic Director to allow our ensembles to have different conductors under the same artistic guidance. The band continued to grow musically and artistically as performing at Broadway allowed concert production to include visual and lighting elements. The band also ventured into new types of events, such as accompanying the Seattle Women's Chorus as a pit orchestra, producing a youth outreach concert, and hosting the 2011 LGBA conference with over 225 musicians performing at Seattle Center's McCaw Hall.
Anne Kreider became the band's artistic director and conductor in 2012, and continued to expose both the musicians and our audiences to new composers and musical styles, while also showcasing classic concert band repertoire and transcriptions.
After moving to the Edmonds Center for the Arts in 2010 to reach new audiences and play in a top-notch, newly renovated performing arts center, the band returned to Broadway Performance Hall in 2014 to provide a more central performance location with several transportation options. The band continued to provide unique performance experiences for its members and audience, such as our West Coast premiere of Quilt Panels (for my love, for my grief, for my letting go) in
conjunction with Seattle's renowned choral group The Esoterics. This moving commemoration of World AIDS Day 2012 was followed by a reception featuring the rare display of a section of the National AIDS Memorial Quilt.
Our most recent conductor and artistic director, Timothy V. Norris, Jr., joined us in the summer of 2017. Tim launched some new traditions including the annual Justice for All concert series and the annual Rainbow Ball Gala. In 2020 as we switched to virtual events, Tim led us in both rehearsing remotely and producing fantastic online events with visual elements to accompany the music program.
Interim Music Director Jennifer Lang-Powers led the concert band in its return to in-person events in 2022, concurrent with a change in homes to UCUCC in the University District, providing better rehearsal space and much better accessibility via public transportation for our members.
We hope to see you at an event soon!