Want to become a member?
We're looking for new members to join starting in August for the new concert season.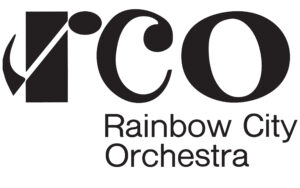 <!=========Events Static list Template 2.3.1=========>
This template is only available on the pro version.
Who's the orchestra?
Rainbow City Orchestra welcomes members of all abilities, backgrounds, and identities. We are a brought together for a shared space of support and growth to play music for a different purpose than most orchestras. Our concerts a filled with music to highlight and celebrate marginalized artists and identities while sharing our performances with artists that represent, uplift, and excite LGBTQIA+ communities. We're growing to include many members who have not felt accepted in their identity in other groups, or who wish to play more diverse styles of music. Allies are also welcome and we are all one family together that spans identity, race, and class distinction.
What the orchestra does
We perform large thematic concerts with a ranging size of ensemble to fit the appropriate music, including music with only strings to an expanded symphonic orchestra. With our companion ensemble, Rainbow City Concert Band, our wind and percussion players have opportunities to participate in both ensembles.
We perform a wide range of classical and contemporary music and seek out compositions from a variety of genres, local artists and diverse composers. We take on challenging music but also focus on fun and thematic performances.
How this orchestra is different
We are not your standard community orchestra! We aim to build a family of musicians of all abilities and identities and make you welcome to express yourself with us through our shared love of performance. Through our mission, we focus our musical choices on composers who are marginalized and less often heard through history. We also play themes that speak to LGBTQ+ communities and the challenges we still face. Often, we include community partner organizations and impactful collaborators to bring focus and donations to important causes.
The orchestra is backed by Rainbow City Performing Arts, performing instrumental music in Seattle since 1998. Through collaboration and shared resources, we are building a strong lasting legacy in Seattle with a welcome place for those who want to join our mission. All are welcome! Whether you are a member of the LGBTQIA+ community, an ally, differently abled, or still building musical skills, we are committed to securing a space and supporting everyone who is interested in expressing themselves on their instrument.
---
Common Membership Questions
---
How do you engage with the community?
We perform stage concerts with ticket prices that are accessible for most patrons. We collaborate with other community ensembles & artists and we fundraise for charitable nonprofits in our community.
---
When and where are the rehearsals? How long is the performance season?
Sunday afternoons from 3:00-5:30pm in the University District with free parking and close access to bus and light rail. The rehearsal term lasts from August through April with concerts in November, January, and April. There are occasional additional rehearsals on Saturdays to accommodate rehearsal needs. Members can work with their section manager to manage needed absences to ensure performance readiness.
---
What instruments could I play?
Instrumentation is for: Violin, Viola, Cello, String Bass, Flute, Oboe, Bassoon, Clarinet, Trumpet, French Horn, Trombone, Tuba, Piano, Percussion
We have limited loaner instruments available.
---
What's the skill level required? Is there an audition or cap on membership?
We welcome members of all skill levels and many of our members joined us after a long break from playing. We have a supportive environment for you to build your skills. There is no audition or limit to the number of string players, however wind players have a defined number of seats which are auditioned.
---
When can I join?
Contact us at any time to let us know your interest and we will connect you with the ensemble to join at the next opportunity. Initial season rehearsals are in September and you can jump in after the conclusion of each concert quarter. You're welcome to sit in on a rehearsal for a try out any time.
---
How do you distribute music?
All RCPA ensembles distribute all music digitally through cloud links. You can print your own music to your preferred size specifications or load it onto a digital device. We do not always have copies of the music available at the rehearsal. Specific parts are assigned by section managers equitably to distribute members evenly across parts.
---
What are the basic requirements of membership?
We ask members to attend 80% of all rehearsals or make arrangements otherwise. Member dues are $75 per quarter, or you can utilize our Angel Fund to cover your dues in case of financial need.
---
How do I join?
Click here to fill out our membership interest form. We'll get back to you soon!
The orchestra's history
Rainbow City Orchestra first launched in 2010 as Seattle's first LGBTQ+ string ensemble by founding member Meg Niemann and performed proudly for five years under the batons of founding Director Jerilynn Harris-Kilgore, as well as Joe White, and Marge Rosen. There was a strong cohesive group focused on the mission of building a safe inclusive home for strings. We had many fun and exciting performances including a wine pairing fundraiser and shared performances with the concert band. Though we didn't yet march, we did attend band camp in Fort Worden multiple years!
The orchestra had to go dormant in 2015 as the organization grew to better support the additional ensemble. In response to demand, in 2023 we brought the orchestra back to realize our mission of visibility and inclusion with people in the community who play string instruments. Under the baton of Dr. Christopher T. F. Hanson, we have seen great success with growing membership, cohesiveness, and a patron base. We'd love you to join us as we build this new exciting chapter in our history!