Should I join an ensemble?
Do you enjoy making music as part of a band or orchestra - or providing visual pizazz as part of a color guard? Maybe you're new in town and looking for a way to meet other musicians and keep motivated to practice and perform. Or maybe you keep thinking about picking up an instrument or flag you haven't touched in 15 years, but you're concerned that you're not ready to jump into a group yet.
You are just who we're looking for! Join an ensemble with Rainbow City Performing Arts.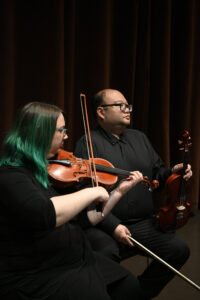 Our members span a wide range of experience and ability, and our goal is to select music and provide coaching that allows everyone to exercise and improve their skills. For our non-audition ensembles, all we ask is that you be able to read music and have at least basic skills on your instrument. Need to find a teacher for individual lessons? Need to find a place to rent an instrument? Our members can probably help you find the resources you need. Not ready to play a featured part? No problem! Looking for an opportunity to play a featured part? Terrific! We love showing off all of our members' talent, but also let members build confidence without pressure.
How do I join an ensemble?
Just shoot us a quick message. Let us know which ensemble(s) are of interest and which instrument(s) you play (or for spinOUT, if you have experience with flags, rifles, and/or sabres). Our membership director will put you in touch with the right people and make sure that you know where to go, when to be there, and what to bring along. Want to sit in a on a rehearsal to see what we're like? We'd love to have you!