Community is a powerful force that brings people together, fostering a sense of belonging, support, and shared passion. Musical ensembles are a special place, where individuals with diverse backgrounds and experiences unite under the common love for creating harmonious melodies. Rainbow City Performing Arts (RCPA) embodies this spirit of community further by uplifting our own LGBTQIA+ community for more visibility and equity, Through our many bands, we showcase our vibrant band community through diverse performances spanning many genres. RCPA is a Seattle-based nonprofit organization that provides opportunities for LGBTQ+ musicians and allies to express themselves through music.
The Concert Band: A History of Community and Musical Excellence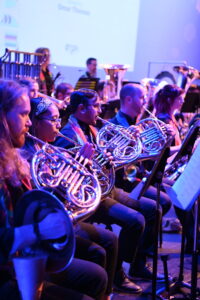 Our concert band has long served as a cornerstone of the RCPA band community. Steeped in tradition and driven by a shared love for music, it now focuses on presenting music by marginalized and diverse composers, and have commissioned a number of pieces ourselves to present music representing our community. The concert band is open to anyone who can read music and play a wind or percussion instrument, regardless of skill level or identity. Also, it is more than just a musical group; it's a family of supportive and friendly people who share a passion for music and community.
The Rainbow City Concert Band is a testament to the power of unity, as musicians of all skill levels come together to create beautiful music. It's not solely about the final performance; it's the journey, the camaraderie, and the friendships formed along the way that define this band community. Members support and inspire one another, fostering an environment where everyone can thrive and grow as musicians.
The Rainbow City Jazz Band: Longevity and Continuing Membership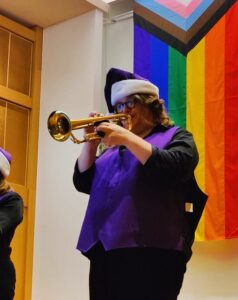 Another ensemble that showcases the band community spirit of RCPA is the Rainbow City Jazz Band, which was formed in 2004 as an offshoot of the concert band but grew a unique identity and tradition. The jazz band plays standards and swing tunes from the 1930s to the present, and often features vocalists and dancers. What sets Rainbow City Jazz Band apart is its commitment to maintaining a sense of family and community among its members. The band's longevity can be attributed to the bonds formed and the joy of playing together. By nurturing a supportive and welcoming environment, RCPA has created a space where musicians can develop their skills, explore their passion for jazz music, and forge lasting friendships.
Expanding Our Band Community: The Inclusion of Marching Strings
RCPA's commitment to inclusiveness and diversity shines through its original ensemble, the marching band. By introducing strings into this traditionally wind, percussion and flag ensemble, RCPA breaks barriers and expands the definition of a band community.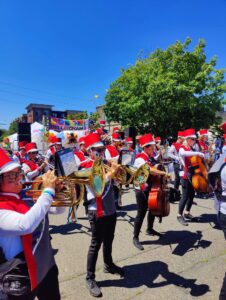 Rainbow City Marching Band performs at parades, festivals, and rallies throughout the year, and is known for its colorful costumes and flags. The marching band plays upbeat and catchy tunes that get people moving and embraces musicians from different backgrounds and experiences. This forward-thinking approach symbolizes RCPA's dedication to inclusivity, ensuring that all individuals, regardless of their instrument preference, have the opportunity to be part of the band community.
To Wrap It Up...
The Rainbow City Performing Arts organization's band community embodies the true essence of unity, support, and shared passion. All our ensembles including our orchestra demonstrate the organization's commitment to creating a welcoming and inclusive environment for musicians of all backgrounds. RCPA's belief in the power of community has fostered lasting friendships, musical growth, and a sense of belonging that extends far beyond the stage. Whether you're an aspiring musician or a music lover, joining the RCPA band community is an invitation to be part of a vibrant family united by the transformative power of music.