In June 2023, city of Seattle witnessed an exciting new event that brought together the worlds of music, sports, and LGBTQ+ pride. The Seattle Sports Pride Rally, hosted by Rainbow City Performing Arts, was a resounding success that showcased our ability to break barriers and build new community connections. From featuring ensembles from various backgrounds to organizing our first-ever PRIDE event, the rally was a true celebration of "sports pride" in all its forms.
A Spectacle of Music and Unity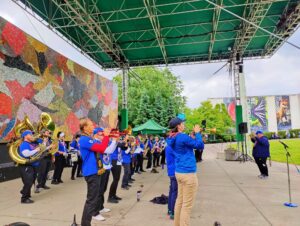 For Rainbow City Performing Arts, the rally marked a series of firsts. One of the most notable achievements was presenting a performance featuring a diverse array of ensembles, most of which were not our own. Collaborating with ensembles from different communities showcased our commitment to inclusivity and unity, which resonated strongly with the audience. For the first time ever, we brought together the city's four pro sports bands onto the same stage. This feat demonstrated the community connections RCPA has built with local ensembles such as the band Sound Wave and drumline Blue Thunder through collaboration with our own Reign City Riot.
Leading the Tabling Event with Pride
Another feather in Rainbow City Performing Arts' cap was our first-time experience leading a tabling event. This event provided a valuable opportunity for the organization to engage with the community, foster new connections, and spread our message of "sports pride" through the universal language of music. We were proud to welcome organizations such as United Sports Seattle and the Rain City Soccer Club. We'll be proud to welcome them back along with other organizations in the future.
A New Frontier: Hosting Our Own PRIDE Event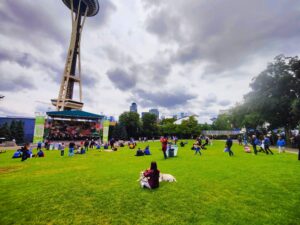 The Seattle Sports Pride Rally was not just about performances; it was about embracing and celebrating identity and diversity. For the first time, Rainbow City Performing Arts organized our very own PRIDE event thanks to our partnership with Seattle Center and support from Molina Healthcare. This bold move demonstrated our dedication to creating a safe and inclusive space for everyone, regardless of their background, orientation, or identity. Rainbow City Performing Arts strives to create new community spaces to support building a stronger LGBTQIA+ community and to utilize our expertise to benefit as many people and organizations as possible.
Marching Band and Color Guard Take the Stage and Record a Historic Performance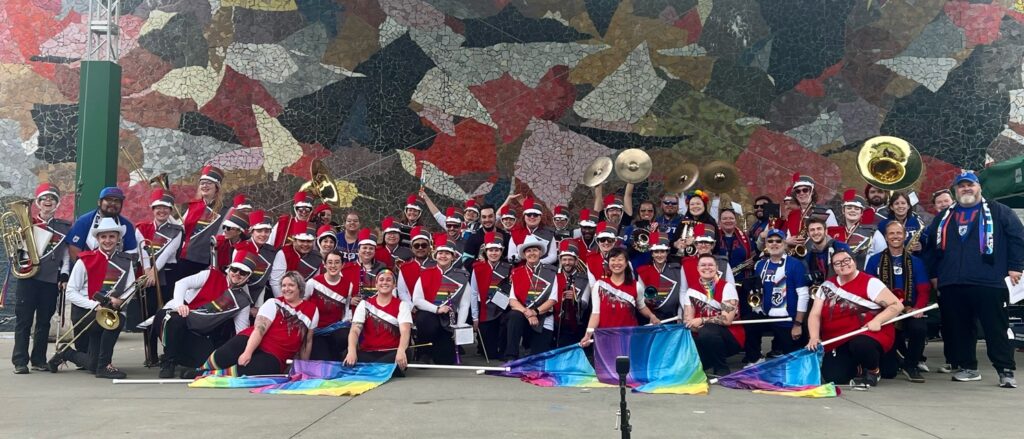 The Seattle Sports Pride Rally was an exceptional platform for our marching band and color guard. For the first time, they had the honor of gracing the stage with a full performance, further highlighting the essence of "sports pride" through their mesmerizing musical showcase and visually stunning routines. Moreover, this milestone performance was recorded live, capturing the essence of the rally, the energy of the performers, and the sense of community and pride that permeated the event. This recording will stand as a testament to our achievements and the power of "sports pride" for years to come.
Unity of Sports and Music for the LGBTQIA+ Community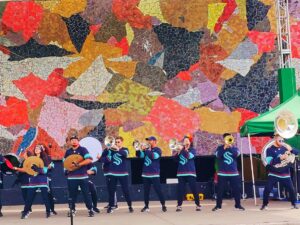 The unity of sports and music holds tremendous benefits, particularly for the LGBTQIA+ community. By combining these two powerful mediums, events like the Seattle Sports Pride Rally create a sense of belonging, acceptance, and empowerment. For many members of the LGBTQIA+ community, finding spaces where they can express themselves authentically and be embraced without judgment is essential. Sports and music offer a unique platform for self-expression, fostering an environment where individuals can break free from societal expectations and embrace their true identities. The rally not only celebrates the talents and achievements of the performers but also sends a resounding message of inclusivity to the broader community. It serves as a safe and supportive space for LGBTQIA+ individuals to connect, build friendships, and form bonds that extend beyond the event. The synergy between sports and music encourages a shared understanding, breaking down barriers, and promoting empathy, thereby fostering a more tolerant and compassionate community that thrives on the principles of "sports pride" and celebrates diversity in all its forms.
Conclusion
The Seattle Sports Pride Rally 2023 hosted by Rainbow City Performing Arts was not just a music event or a PRIDE celebration; it was an inspiring testament to the power of unity, acceptance, and "sports pride." By breaking barriers and achieving numerous firsts, our organization showcased the limitless potential of combining sports, music, and pride to create an unforgettable experience. The rally serves as a beacon of hope, reminding us all of the importance of embracing diversity and fostering a sense of community, wherever we may be. As Seattle continues to thrive as a city that celebrates "sports pride," events like this will undoubtedly play an instrumental role in shaping a brighter, more inclusive future for all.