In the interview below, Caleb Gomes, shares their contributions to Rainbow City Performing Arts (RCPA) through their participation in multiple ensembles. Caleb is also the composer of the original piece "Connections" that will be premiered on Friday, November 17th at Benaroya Hall in Seattle, home of the Seattle Symphony. The piece was commissioned by Rainbow City Performing Arts in celebration of our 25th Anniversary and will be performed by the Rainbow City Concert Band in their inaugural performance at Benaroya Hall alongside Rainbow City Orchestra!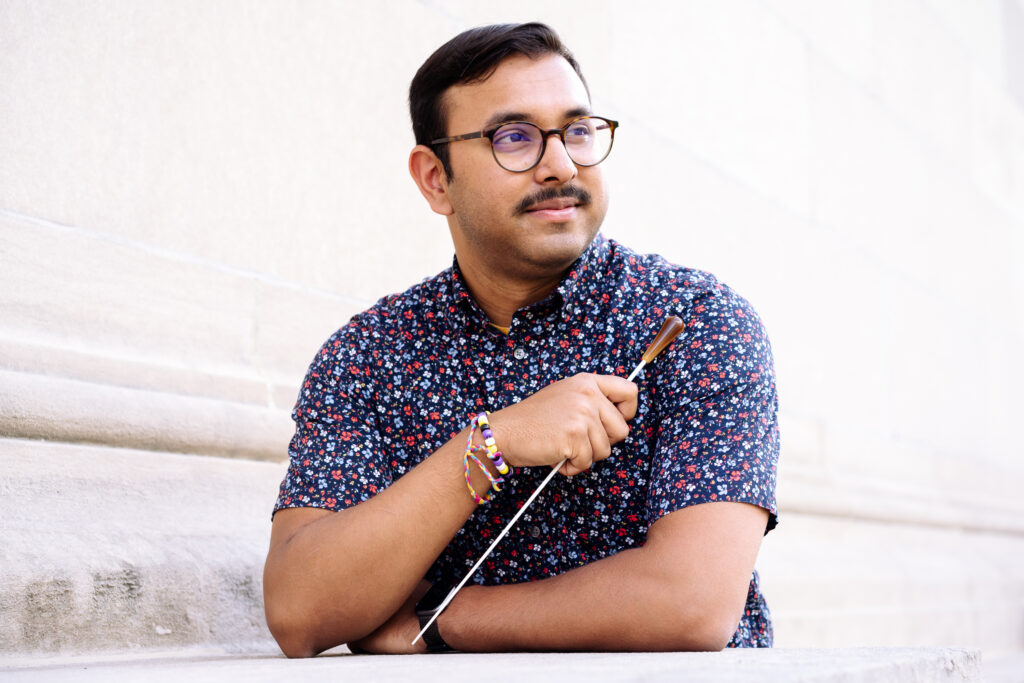 Q: Hi Caleb, can you tell me about yourself and your professional background?
A: I am a Seattle-based composer, arranger, and orchestrator. I grew up in Southern Illinois and received a Bachelor of Music degree from Southern Illinois University. I came to Seattle in 2019 to pursue my Master of Music at the Pacific Northwest Film Scoring Program at the Seattle Film Institute. I completed the master's program from 2019-2020, right as the COVID pandemic happened. I had originally planned to move to Los Angeles, but instead I moved to Albuquerque, New Mexico with my classmate and stayed for six months. Then, I moved to Clemson, SC for about a year and after that I decided to move back to Seattle because I missed the city.
Before moving back to Seattle, around December 2021, I started working with Reel One Entertainment in Canada as an additional music composer, music supervisor and editor. I've worked on about 12 feature rom-coms, thrillers, & holiday movies for Lifetime and Hallmark. I also worked as sound scape designer for the Seattle startup called Novel Effect (a mobile app). I currently work for Reel One Productions, and as an arranger & orchestrator I've had works performed or worked for several ensembles such as the Colorado Symphony, Baltimore Symphony, Gay Men's Chorus of Los Angeles, and arranging for brass bands & community ensembles across the country.
Q: What brought you to Rainbow City Performing Arts?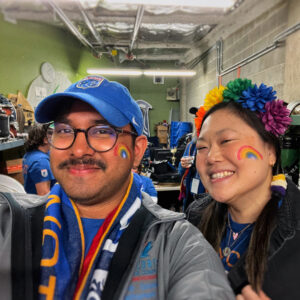 A: I came out as non-binary during the pandemic, and when I am moving to a new place, I like to find a community band. As I was searching, I found RCPA in Fall 2022, which was a twofer: finding both a queer community and a community band! When I filled out the application of interest form, I expressed interest in both Reign City Riot and Rainbow City Orchestra. I quickly became the events manager for the Rainbow City Concert Band.
Q: Did you combine your professional experience with your interest in joining RCPA?
A: Yes! Seeing my application of interest form, the Reign City Riot Director, Wes Walton, found my Instagram highlighting my work as a composer (@caleb.gomes.music). Wes reached out and asked me about arranging charts for the Reign City Riot's season. I arranged about 10-11 charts last season; these are the songs the band plays during the OL Reign soccer matches. Wes also pitched me as composer for the commission for RCPA (see more below!).
Q: How does Reign City Riot select the pieces to perform at OL Reign soccer matches?
A: It starts out with Wes and I choosing the charts based on the criteria that RCPA and the team put together. We select pieces that are by: (1) a woman; (2) a person of color; (3) a person in the queer community; and/or (4) an artist from the last 20 years. Generally, we try to pick music that the band, Wes and I will enjoy playing. This can be a challenge too because not every song translates for sports band, for example, there is a difference between songs that feature lyrics versus melodies. We also strive to have a variety of genres of songs within the music we play to reach everyone in the audience.
Q: Do you have any favorites from Reign City Riot's prior season?
A: I really enjoyed Hey Mama! By David Guetta, About Damn Time by Lizzo, and September by Earth, Wind, & Fire.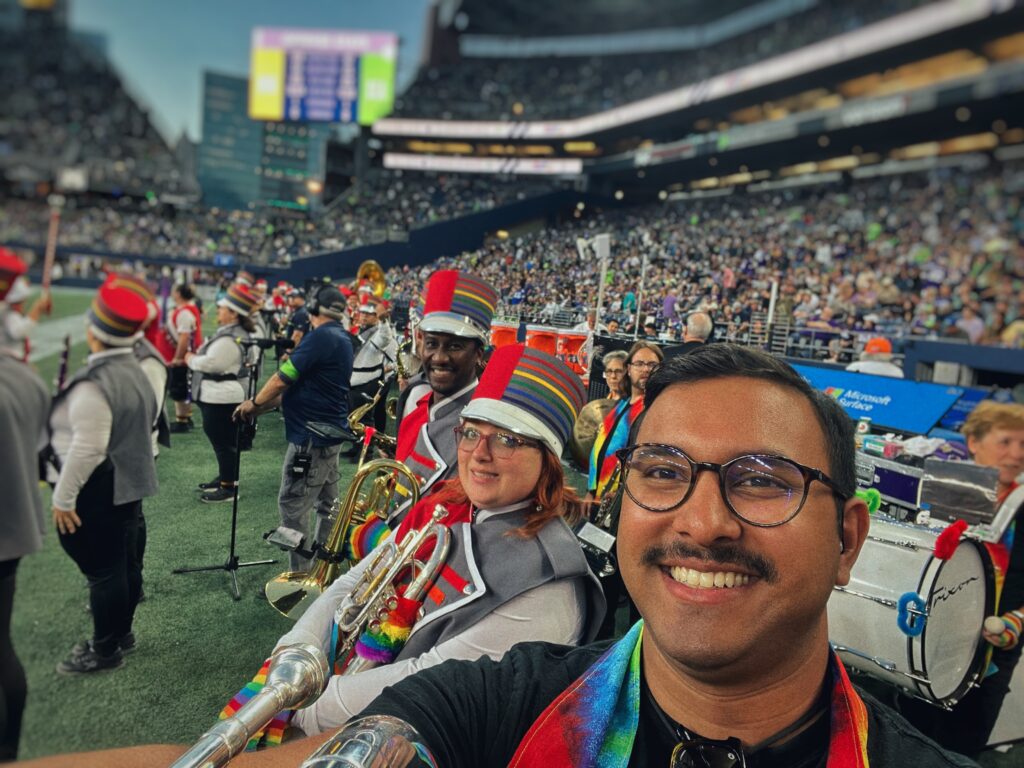 Q: What instruments do you play?
A: I play the mellophone with the Reign City Riot and the Seattle Kraken's Red Alert. I also play the french horn with the Seattle Collaborative Orchestra, Rainbow City Concert Band, Rainbow City Orchestra, North Seattle Summer Pops, and Seattle Civic Band.
Q: You mentioned that Wes pitched you as the composer for RCPA's 25th Anniversary commission. What did that process look like, and did you write this piece especially for RCPA?
A:  First, I sent in my portfolio of pieces I'd written to RCPA for their consideration for the commission. I was selected from other finalists through their committee. They liked my style and the fact that I am a queer individual, which aligns with RCPA's selection process to choose pieces from members of marginalized communities, including people of color. Next, RCPA offered me the commission and I spoke with the RCPA committee about what the piece would represent. RCPA also specified how long the piece should be, the difficulty, and the instrumentation. Commissions like these can go different ways – I could decide to write whatever I want and simply add the dedication to RCPA, but I didn't want to do that. Instead, as a member of RCPA, I wanted to create a piece with intrinsic meaning to what the dedication is for, so I had focus groups in the Spring of 2023 with veteran members of the organization and past Directors of RCPA to talk about what RCPA meant to them and the community. I collected a list of words and emotions, then I used that as inspiration and material to write "Connections" over the Summer 2023.
Foreward to Connections
Throughout our life and in our communities, we find many connections of shared lived experiences, whether it be through social interactions, tragedies, victories, or shared experiences of expression. In this piece, we follow a journey of connections that we find specifically in the life and expression of queer individuals and the LGBTQIA+ community and its organizations. In the process of writing this commission, I had the unique opportunity to interview several members of the Rainbow City Performing Arts organization to learn more about their shared experiences, their journeys of individual expression, and the organization's shared experiences with other pride-oriented musical organizations. Combined with my own experiences, this piece was formed from the collected emotions and stories of those focus groups, highlighting three important aspects that shone through as a unifying factor through everyone's stories. These three aspects act as the three main themes of this piece: Discovery, Community, and Progress.
Q: What has it been like to conduct and rehearse your piece, "Connections", with the Rainbow City Concert Band?
A: This experience has been great! My favorite part is recording all the rehearsals on my iPad and watching them back and being able to look at the expressions on people's faces while they play and to see their enjoyment. I am hopeful each member understands that they are an integral part to the piece, and I wrote this piece for them.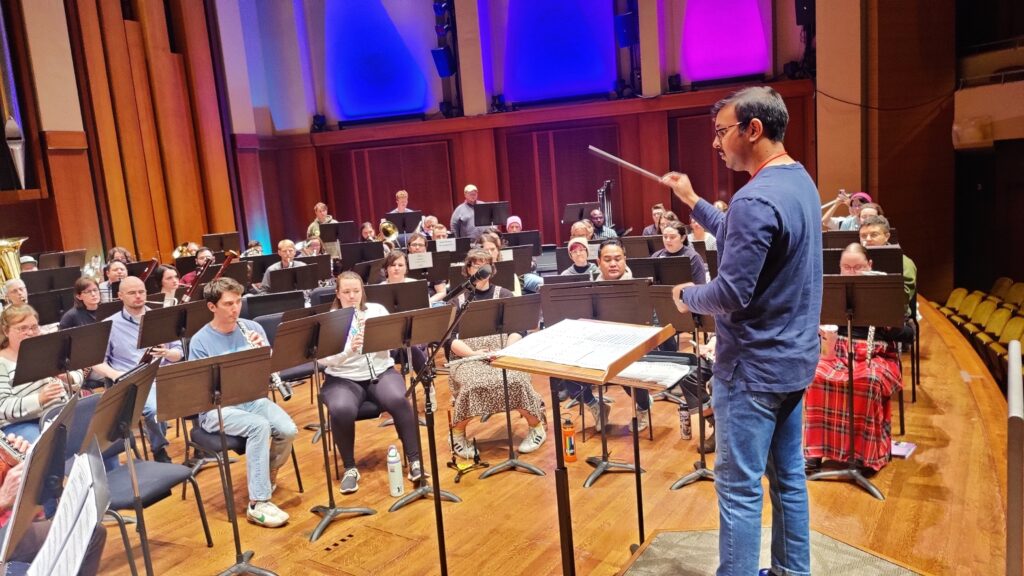 Q: Are you eager for the premier of your piece, especially at Benaroya Hall?
A: Yes! When it comes to premiering a piece, the audience doesn't know the piece at all and no one has ever heard before, so what these musicians create on the stage is what that piece is, and no one can tell them any differently. November 17th is the first time this piece is being performed! Regarding Benaroya Hall, although I have had pieces performed in large and various places before, this is the first time I'm conducting a premier in a place like this. I'm very excited and glad it's a large stage with the largest audience ever for the concert band and orchestra. Also, given that this is RCPA's 25th Anniversary, it is a great occasion to celebrate!
Connections premieres as part of Spectrum of Color on November 17, at 7:30pm at Benaroya Hall. The piece was commissioned by Rainbow City Performing Arts with the support of 4culture. Tickets are available online or at the door.