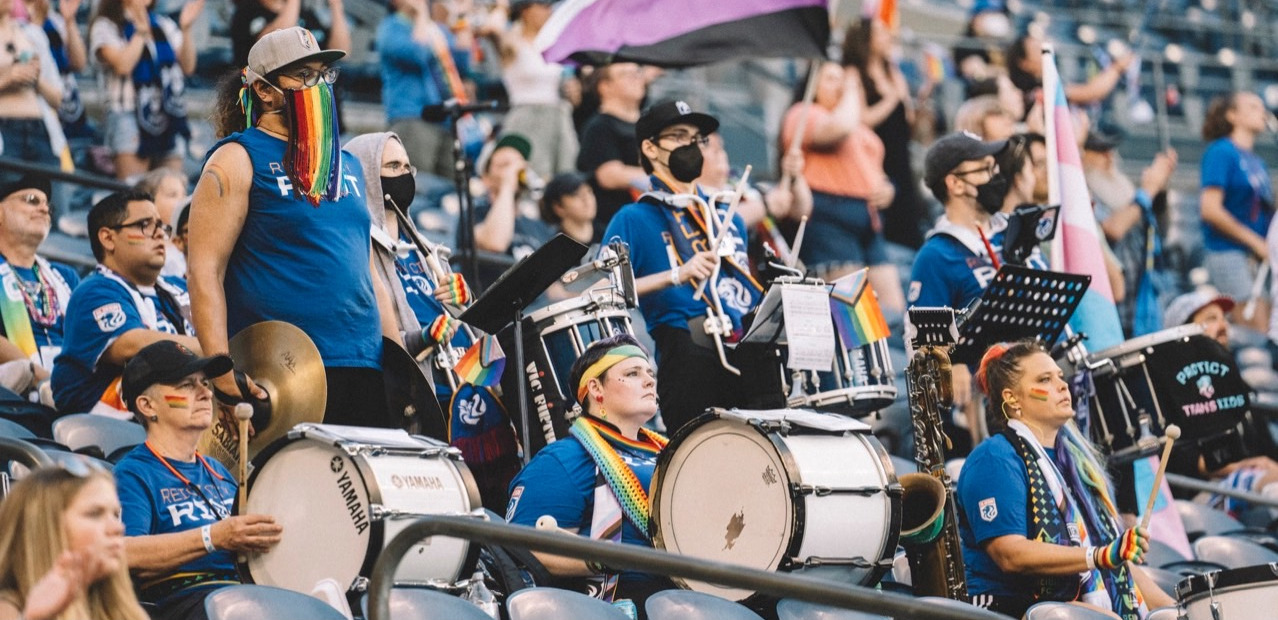 Soccer Match OL Reign vs. Orlando Pride September 2023
September 3 @ 3:00 pm
-
5:00 pm
See the OL Reign vs. Orlando Pride for a a great crisp Fall match over Labor Day weekend. Hear us play our latest set!
Reign City Riot is a sports band that was formed in 2015 as a joint venture of OL Reign and Rainbow City Performing Arts (RCPA). OL Reign is Seattle's professional women's soccer team that competes in the National Women's Soccer League (NWSL). RCPA is Seattle's most inclusive performing arts organization that has been performing since 1998 and welcomes members of all skill levels, abilities, and identities. Reign City Riot consists of many members of other RCPA ensembles and music groups from around the community who share a common love of music, OL Reign, and bringing spirit to both the athletes and the fans.
Reign City Riot performs sets of 20-30 minutes each before and after OL Reign home matches at Lumen Field, and often plays during the halftime break. Their drumline also plays an extensive set of cheers during matches to keep the Reign supporters and fans on their feet and help drive them to victory. Their music generally consists of current high-energy pop and rock tunes that their fans know and love, mostly released within the last five years. They have commissioned most of their music custom written for them, so they have unique arrangements that are not heard from other bands. They also make their music choices to intentionally focus on songs by women and people of color as well as songs lifting up the LGBTQIA+ community.
Reign City Riot is a band that celebrates diversity, inclusion, and soccer through music. They are different than any other professional sports band as they are the first band supporting a professional women's team in all of American sports. They work together to build a family of musicians who can express themselves with them through their shared love of performance. They are also backed by RCPA, which provides them with collaboration and shared resources to build a strong lasting legacy in Seattle with a welcome place for those who want to join their mission. Reign City Riot is a band that brings high-energy entertainment and musical action to their events!