Are you looking for a way to express yourself creatively, connect with other LGBTQIA+ people, and make art that matters? If so, you might want to join Rainbow City Performing Arts (RCPA), a nonprofit organization that welcomes anyone who wants to make art with pride and joy.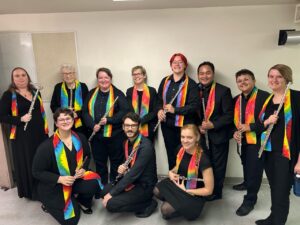 RCPA is different from other performing arts groups because it is affirming and inclusive of all gender identities, sexual orientations, and expressions. You don't have to audition or have any musical experience to join and make music with RCPA. You just have to bring your passion and enthusiasm for making art.
RCPA performs a broad range of musical styles, from classical to pop, from jazz to rock, from folk to funk. You can choose from various ensembles, such as the marching band, the sports band, the concert band, the orchestra, the jazz and jazz band, the drumline, or the color guard. You can also participate in chamber ensembles, outings, and social events throughout the year.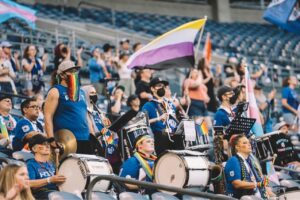 RCPA enriches the community by performing at various venues and events, such as pride festivals, parades, concerts, fundraisers, and more. RCPA also supports other LGBTQIA+ organizations and causes through donations and collaborations. Some recent examples are Lambert House, STANCE, and Elizabeth Gregory Home. RCPA is not just a performing arts group; it is a family of artists who care about each other and the world.
RCPA lifts up LGBTQIA+ people by celebrating their diversity, creativity, and resilience. RCPA empowers its members to express themselves authentically, to challenge stereotypes and prejudices, and to make art that inspires change. RCPA is a place where you can be yourself, find your voice, and make art that matters.
If you are interested in joining RCPA you can learn more about membership or send us a request to join. Don't miss this opportunity to make art with pride and joy with Rainbow City Performing Arts!