We have some exciting news to share with you! Rainbow City Drumline, the amazing percussion ensemble of Rainbow City Performing Arts, is expanding and moving to drumline rehearsals all year around starting in September! This means more opportunities for you to join us, learn new skills, make new friends, and perform at awesome events throughout the year. Whether you are a beginner or an expert, we welcome you to our drumline family. Read on to find out how you can get involved and be part of this amazing musical adventure!
Why Join Drumline Rehearsals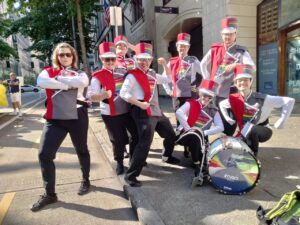 Rainbow City Drumline (RCD) has been the beating heart of Seattle parades for twenty-five years! We march and perform in festivals across western Washington, such as Seattle Pride, as well as play throughout all OL Reign home soccer matches from March to October. RCD is an annual ensemble, with new seasons starting in Fall.
RCD is the official drumline for Rainbow City Performing Arts (RCPA). We play with two RCPA bands: Rainbow City Marching Band and Reign City Riot. RCPA's mission is to create diverse and inclusive musical ensembles that promote and support the LGBTQIA+ community. These bands provide a safe space to openly be yourself, be accepted for exactly who you are, make like-minded friends, and have fun!
We provide the opportunity for musicians to dust off a previously-played instrument, or even learn a new one! RCPA is for musicians at any skill level, provided they can read music and are age 18+. In RCD, we have a long history of helping musicians gain their first drumline experience and/or explore instruments they always wanted to try but never got to. We will teach you how to play them! RCD is a friendly, supportive environment to learn and grow. In our 2023 Drumline season, 6 of our 16 regular players were first-timers on their instrument!
What does Drumline perform?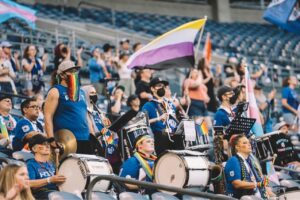 RCD performs with 3-5 snares, 2 quad toms, 3-4 bass drums, and 2 sets of cymbals in parades and full-band performances. For OL Reign games, we can go up to 12 bass drums, 7 snares, and 4 sets of cymbals to really rock the stadium! Instruments, equipment, and uniforms are provided. (RCPA dues are $75 for a year to attend Drumline rehearsals or performances.)
Rainbow City Marching Band performs 10 songs each summer, and Reign City Riot performs 15 songs as a full band in pre/post/halftime shows. Separately, the Drumline has its own book of 30-40 patterns played during Reign games, a marching cadence, and a one-minute solo piece for parades. Only the cadence and solo need to be memorized. Music will be introduced and rehearsed gradually over time in Fall, Winter, and Spring.
RCD players attend drumline rehearsals on Saturdays through the Fall and Winter, as well as rehearsals for both the marching band and Riot on weeknights in Spring/Summer. Full-time members who can commit to a majority of performances and rehearsals are strongly preferred, but part-time players are accepted as space allows.
Our Saturday drumline rehearsals in September and October are opportunities for potential new members to come learn how to play their instrument and/or start becoming familiar with our music. They are not auditions, just a chance to give RCD a try before committing. We know you'll love it! Previous members will join rehearsals in November.
For more information about Rainbow City Drumline, contact us about joining!