Rainbow City Performing Arts (RCPA) celebrated Pride Month with a series of performances and events that showcased their talent and diversity, and supported the local LGBTQIA+ community. RCPA is a nonprofit organization that provides musical and artistic opportunities for LGBTQIA+ people and their allies in the Seattle area. RCPA has several ensembles, including a concert band, a marching band, a jazz band, and a color guard.
One of the highlights of RCPA's Pride Month was the Seattle Sports Pride Rally on June 18th, where they joined forces with Seattle's professional sports teams to promote inclusion and acceptance in sports. RCPA's marching band and color guard performed along with our own Reign City Riot of the OL Reign, Red Alert of the Kraken, Sound Wave of the Sounders FC, and Blue Thunder of the Seahawks. The event was a historic display of solidarity and visibility for LGBTQIA+ athletes and fans.
Another major event for RCPA was the Seattle Pride Parade on June 25th, where they marched along with thousands of other participants in downtown Seattle. RCPA's marching band and color guard entertained the crowds with upbeat music and colorful flags. The parade was a joyful celebration of the LGBTQIA+ community and its allies, and a reminder of the progress and challenges that still lie ahead.
RCPA also participated in other parades throughout pride month, such as the Wedgwood Neighborhood Parade and Fremont Solstice Parade on June 17th, where they joined the quirky and creative procession of floats, bikes, and costumes that marked the longest day of the year. The parade was a fun and festive way to kick off the summer season.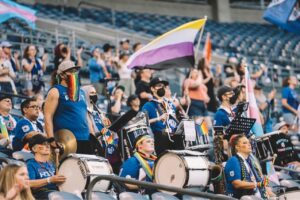 In addition to parades, RCPA also supported our partners OL Reign by performing at their home matches. RCPA's own Reign City Riot played several matches where they cheered on the women's soccer team and their fans. RCPA also collaborated with Sound Wave, the official band of Sounders FC, to present a combined performance for a double-header match with both the women's and men's teams.
RCPA's jazz band also had a special pride month performance at Third Place Commons in Lake Forest Park on June 3rd, where they hosted a free swing dance for anyone who wanted to join. The jazz band played classic tunes from the swing era, as well as some modern arrangements. The dance floor was filled with people of all ages and backgrounds, who enjoyed picking up on the music to pick up some steps. The dance was a lively and inclusive event that brought people together through music and movement.
RCPA's Pride Month was a remarkable showcase of their musical and artistic abilities, as well as their commitment to supporting the LGBTQIA+ community and its allies. RCPA's performances and events helped to elevate and make visible Seattle's pride month celebrations, and to spread a message of love, acceptance, and diversity. RCPA is proud to be part of Seattle's vibrant LGBTQIA+ scene and looks forward to continuing their mission of making music with pride.