Rainbow City Performing Arts (RCPA) orchestrates a comprehensive strategy that harmonizes creativity, purpose, and growth. RCPA's Strategic Plan aims to reorganize leadership to provide more stability for all stakeholders, more support for members, and more equity for staff and volunteers. After twenty-five years as a volunteer-operated association, RCPA has a cause for celebration: hiring Damien Hall as RCPA's first Executive Director! In the words of interim President of the Board of Directors, Riley McCormack: "Damien has been a tremendous advocate and leader in making the governing structural changes needed to move RCPA toward the future." In the following interview, Damien shares his personal journey since joining the Rainbow City Band in 2009, his ten years of volunteerism with the Board, and his vision for RCPA.
Q: Hi Damien, can you tell me about yourself?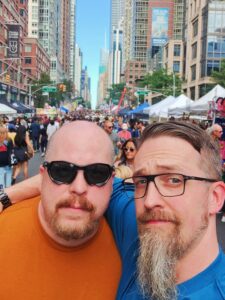 A: I grew up in Northwest Indiana and attended Valparaiso University, earning a degree in Music and Psychology. I've been married to my husband, Sparky, for over 17 years, and we live in Lynnwood with our dog, Dax.
Q: How did you first learn about RCPA?
A: Well, I moved to Seattle in 2006 to work as an instrument repair technician, and I let my career be my music for a few years. When I decided I was ready to play music again, I found RCPA through a Google search in 2009, back when we were called the Rainbow City Band. I also discovered that it was an LGBTQIA+ band, and coincidentally, marching band season had just begun. Over time, I found my place and I've been a consistent member for over 10 years serving in the roles of Director of Operations, Director of Membership, Librarian, Percussion Section Leader, and President.
Q: What instruments do you play?
A: I went to college as a vocalist, and then became a band instrument repair technician and learned most of the other instruments, like the clarinet. I still play the saxophone quite a bit, and I learned drumline and percussion through the Rainbow City Band. In RCPA, I tend to play percussion most. I love that I get to play something all myself, each part is always a solo in the percussion section of the concert band. There's a bit of freedom of expression and flexibility to walk around in the back. The percussion section is tightknit; Drumline is what hooked me on RCPA!
Q: What changes have you seen over the years as Rainbow City Band became Rainbow City Performing Arts?
A: When I first joined, Rainbow City Band had a three-season Concert Band, a summer Marching Band, and a Jazz Band. We had about 50-60 members, so we required Jazz Band members to participate in Concert Band to provide enough musicians. The Drumline and Color Guard existed, but they were not supported as separate ensembles.
In the early years, we didn't necessary want to be out & Proud; there was no rainbow in the logo. Then, in 2016 we started expanding our scope, and in 2019, we changed our mission from purely making music to focus on social justice. Personally, I have experienced and helped to foster the growth from an organization of under 60 members with a band and two additional small ensembles to an organization with over 200 member musicians. I've felt the band transform just as the LGBTQIA+ community has changed, and our organization continues to evolve!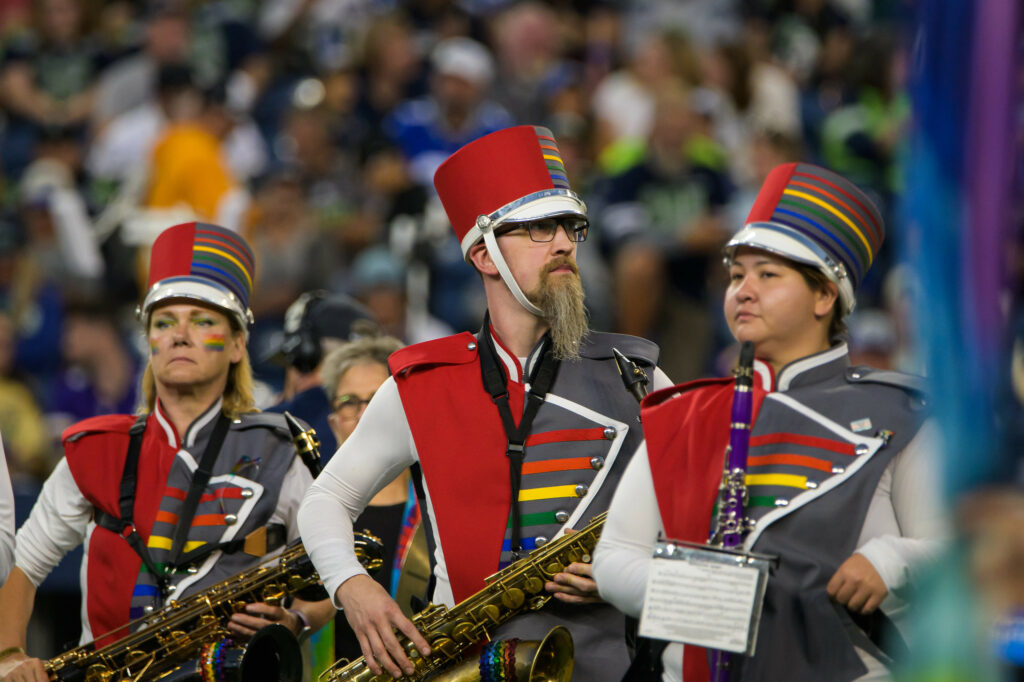 Q: After 14 years with RCPA and after 10 years in leadership & volunteer roles, what does it mean to you to be selected for the Executive Director position?
A: Personally, the selection to the Executive Director role is a meaningful recognition of the work I have been doing as a volunteer for the past 10 years. Looking back on the many projects that I've been on that helped RCPA and its members, this work is really gratifying, and receiving equitable pay is more sustainable than continual volunteerism. I never thought it would be possible for RCPA to have an Executive Director, let alone that I would be the one selected to fill it! Professionally, this feels like a continuation of the work essential to keeping this organization operational. During my recent time serving as the President on the Board, in 2022, RCPA was in a crisis moment. During the pandemic, RCPA stayed strong with virtual performances in 2020, but had challenges recruiting new Board members in 2021. RCPA shrunk to a core of the members and lost its former Artistic Director, we just weren't able to operate until the world was ready to make music again. But then RCPA's Board and members came together to do important work, like hiring a new Artistic Director and moving to a new rehearsal space, and now we are off like a rocket!
Q: In a nutshell, what is your role as Executive Director?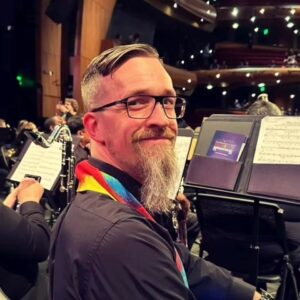 A: In RCPA's organizational structure, the Executive Director position sits right below the Board and has the responsibility as the head of all Staff. Because the Executive Director role is in the middle of the Board and the Staff, I must know everything that is going on and provide assistance where I am needed. For example, I manage the Staff, many of whom are volunteers, while also focusing the Board on decisions about policies, fundraising, and budget. RCPA's Executive Director position is still part-time, due to financial constraints.
Q: As the incoming Executive Director, what is your vision for RCPA?
A: I am looking forward to the pace of change – and lots of it! The Board approved a comprehensive strategic plan for the 2023-2024 season to support a transition to support these important initiatives that will promote stability and focus on the mission. In the short term, RCPA is looking to provide more stability and structure for the organization, including financial security. In the medium term, we want to continue our work to equitably pay for work in RCPA in order to provide additional services to our members and to focus on the mission: building visibility in the community, focusing on marginalized communities, and performing diverse works by even more marginalized composers – including through funding our own commissions! RCPA's long-term goal is to stay true to who we are, to remain close to the membership, and to be flexible to evolve with the needs and desires of the members. Ultimately, we aim to serve our mission most effectively with equitably paid, professional staff who are members that play in our own ensembles.
Q: What advice do you have for new and returning members?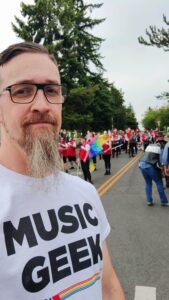 A: To new members, I'd say: You get what you give! RCPA will support you to learn a new instrument, you could even become the section leader. The personal growth opportunities are numerous: develop leadership skills, gain knowledge about operating and financing a professional arts organization, learn about Diversity, Equity, Inclusion, Accessibility, & Belonging (DEIAB), etc. RCPA also provides an opportunity to meet all kinds of people with various identities and backgrounds, especially other LGBTQIA+ people and allies. The bottom line – jump in and see what happens!
For returning members, I invite you to see the joy that comes to all of our new band, orchestra, and color guard family, which remains unchanged from 10-20 years ago. We are growing our new membership so quickly – some things have changed, but the things that really matter haven't. RCPA is all about joining the collective experience of music expression and seeing how important it is to so many people.