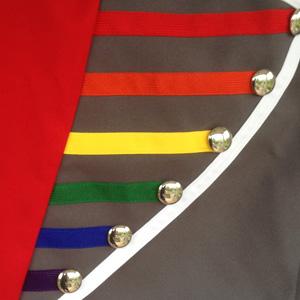 Our 21st marching season is upon us, starting with our annual parade through the Wedgwood neighborhood on June 12 to thank our Wedgwood neighbors and the Wedgwood Community Church that serves as our rehearsal home - and culminating with a trip to the Vancouver Pride Parade on August 5. See our events calendar for the full lineup of parades.
Our calendar also includes dates for performances by Queen City Corps, our latest collaboration with a professional sports team, playing at Seattle Reign FC games on 5/19, 6/23, 7/11, and 8/25. Queen City Drum Corps continues to play at most Reign FC home games.
>>>Read more about Queen City Corps
We're also thrilled to announce that SpinOut, our beloved Color Guard, will be joining us once again on parade routes, led by our own Jess Molinaro. Thank you to the many contributors to SpinOut's fundraising campaign earlier this year to replace old equipment and uniforms!